I try not to talk about my shark obsession so much on here, my personal FB gets the brunt of it, but I am well and truly shark mad! They have been my favourite animal(thing) since I was 7 and told I could do a school project on anything I liked, I chose sharks. I must have already thought they were pretty cool but learning about them made me love them more and more. 19 years later, I'm still crazy about them.
When I saw
Sugar & Vice's
shark necklace I fell in love with it straight away so
Sarah
and I arranged a swap, I sent her some of my
illustrated necklaces
in return for one of her amazing sharks. However Sarah is just so lovely she decided to send me a second one to give to one of you lucky people!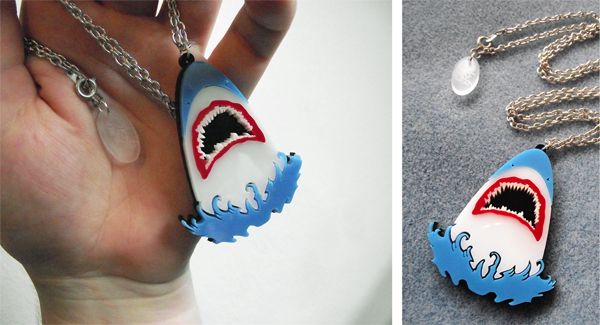 Sugar & Vice specialises in fantastic acrylic jewellery from personalised name necklaces to more intricate designs such as this one that's up for grabs. There is so much choice and a wide variety of styles so every piece Sarah makes I can think of someone I know who it would be perfect for.
You can enter using the Rafflecopter form below, it's nice and easy and there are loads of opportunities to gain extra entries!
Make sure you read the terms and conditions at the bottom of the Rafflecopter form, the giveaway will close on Sunday 27th.